#1 FOR AC MAINTENANCE IN VALPARAISO, IN WITH OVER 250 5-STAR REVIEWS
A Little TLC Goes a Long Way
When temperatures begin to soar, your home becomes an oasis—a place to escape the brutal heat, unwind with a nice cold drink and thank your lucky stars that you aren't outside.
But this all goes out the window when your AC stops working.
More often than not, the AC problems that we encounter could've been prevented with seasonal maintenance. A problem that began small is left untreated because the homeowner either didn't notice it or they hoped the problem would disappear on its own. So, by the time we're called in to help, the problem has become much more significant and expensive to fix. But if the unit had been properly maintained, the technician would've seen and corrected that smaller issue to end it all right there.
For Ultimate Protection & Savings, Join the All-Star Service Plan
It is equally important to maintain your AC, heater, electrical and plumbing. But we also know that to maintain everything separately would be time-consuming and costly. That's why we combine it all under one affordable plan!
The All-Star Service Plan is protection, savings and convenience all rolled into one. See the graphic below to learn more about what's included and then choose the perfect plan for you: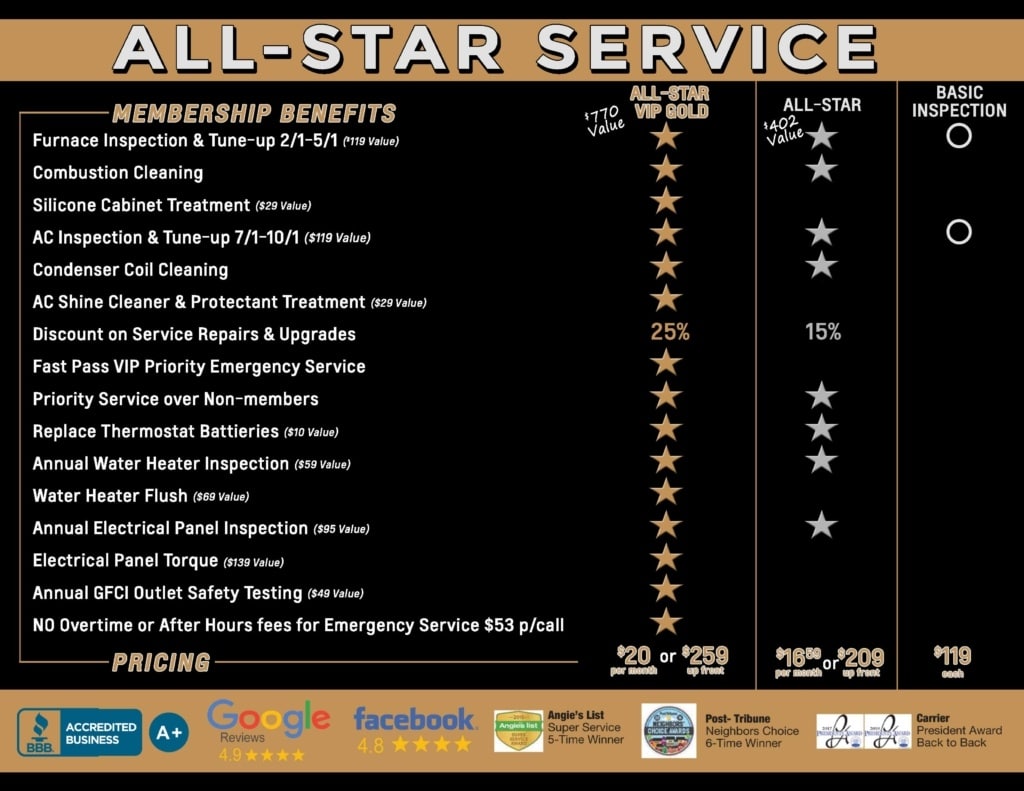 What Are the Benefits of AC Maintenance?
In addition to preventing emergency repairs, cooling maintenance offers a number of benefits, including:
Cost savings. Routine AC maintenance keeps your unit running at maximum efficiency. Your unit won't work any harder than it needs to, which means you'll save more on your energy bills. Plus, because efficient units naturally last longer, you'll get the maximum return on your investment.
Energy savings. Dust and debris buildup can force your unit to overwork itself. During a tune-up, we'll clean the unit and ensure it has proper airflow so that you can save more energy and, in turn, money.
Increased comfort. An efficient and well-maintained air conditioner will do exactly what it is designed to do: Cool your home to the perfect temperature! If your unit is still on the newer side but isn't meeting your expectations, there's a good chance it just needs some fine-tuning from a trained professional.
Peace of mind. We can't tell you that cooling maintenance will prevent any and all problems with your air conditioner. However, it will certainly decrease the chances that you'll face costly repairs. We will proactively inspect your unit and correct any minor issues so you can feel confident in the health and reliability of your air conditioner.
Keep Your Cool With All-Star AC Maintenance
The last thing you want to do is lose air conditioning in the middle of a heat wave. To help your air conditioner sail smoothly this summer, make maintenance a top priority. It will keep your unit running optimally and cut your cooling costs all season long.
To schedule your next AC tune-up or to learn more about the All-Star Service Plan, contact us online or call All-Star Service at [phone] today.