Why Put Your Warmth in Jeopardy?
Few things are tougher to shake than the chills. That's why, when your home loses heat in the middle of winter, panic sets in immediately.
While we provide 24/7 emergency heating repair, we want you to avoid this situation at all costs. Not only is it very unpleasant to lose your heat, but it can also be expensive to restore, especially if the problem is extensive. That's why we offer maintenance tune-ups that are designed to prevent costly repairs and keep your heater running optimally year after year.
Why Have a Professional Maintain My Heater?
We like to think of our certified technicians as HVAC detectives. When inspecting your equipment, they know exactly what to look for and how to optimize the various components. Your technician will detect and correct any minor issues before they can compromise your equipment. These are the same problems that, when left untreated, result in emergency no-heat calls. If we do encounter a more serious problem, we will always inform you before performing any repair work.
Find Maximum Value in the All-Star Service Plan
Between your heater, air conditioner, electric and plumbing, there's a lot to keep up with in your home. (Trust us. We know!) That's why, to make life easier for our customers, we combine everything under one affordable plan.
From repair discounts to priority service, members of the All-Star Service Plan enjoy a number of perks. Take a look at the graphic below to explore our different options and choose the perfect plan for you and your family: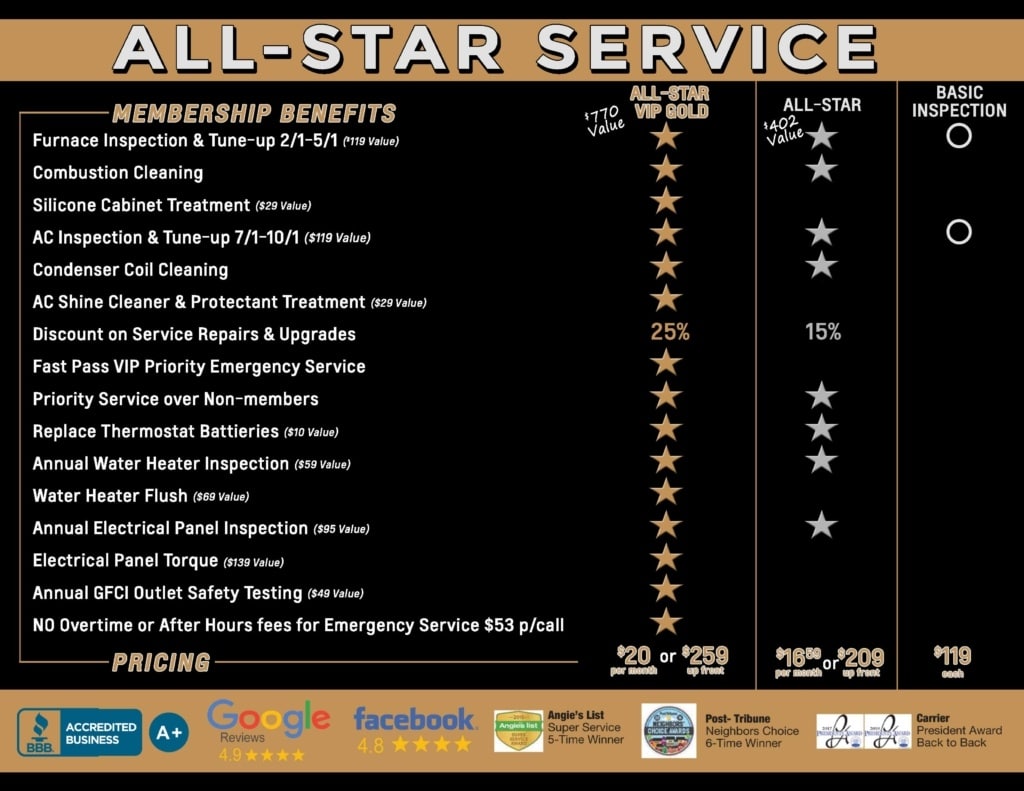 What Are the Benefits of Heating Maintenance?
The more you look after your heater, the more it will look after you. In other words, taking care of your equipment increases the chances that you won't need to worry about emergency repairs, high energy bills and other concerns. We recommend seasonal tune-ups for each and every home because regular maintenance offers a number of advantages, including:
Cost savings. Think of your heater as a marathon runner. Regular maintenance keeps your unit in top condition so it can run at maximum efficiency. Because your heater won't need to work as hard, you'll save on your energy bills. Regular maintenance will also prolong the life of your heater, which means you'll maximize your return on investment and delay the need to spend money on new equipment.
Energy savings. Little things like cleaning the unit and changing the air filter will have a big impact on your long-term energy savings. This will not only reduce your energy bills, but it will also minimize your carbon footprint and benefit the environment.
Improved comfort. Cleaning and fine-tuning the heater can have a significant impact on airflow, temperature and more. If your heater is on the newer side and isn't meeting your standards, a tune-up can be all it takes to keep your home significantly warmer at a lower long-term cost.
Year-round peace of mind. Losing heat can rattle the nerves like nothing else. By continually maintaining your equipment, you are significantly decreasing the chances of a sudden mechanical failure. You'll be able to sleep soundly at night knowing your furnace, boiler or heat pump is working just as it should be.
We'll Do All the Work for You
From our thorough tune-ups to our comprehensive maintenance plans, we have everything you need to reliably heat your home with ease. We understand that while maintenance is surely a necessity, keeping up with it is easier said than done. That's why we have developed the optimal approach that gives you all the benefits of seasonal maintenance without the work and stress!